Heavy Duty Towing in Gallup, NM
Professional Heavy Duty Wrecker Service for Trucks and More by A&A Towing
Towing is not a one-size-fits-all job. What works for cars or vans may not work for larger vehicles, such as trucks, semi-trailers, tractors, etc. A & A Towing, Inc. is your premier heavy duty towing provider in Gallup, New Mexico. Our services are designed to provide fast and reliable assistance for heavy towing that requires more than just a regular tow truck. We specialize in oversized loads, long-distance hauls, and over-dimensional cargo, so you can rest assured that we have the capability and experience to handle any situation.
Our experienced big truck towing professionals and highly trained technicians utilize advanced technology and know-how to guarantee the highest quality heavy duty towing service and satisfaction with every job we complete. All our trucks are equipped with state-of-the-art equipment, allowing us to transport whatever you need to be moved safely. We also offer 24/7 emergency service and roadside assistance whenever you need it most, so no matter how big or small your needs might be, you can trust that A & A Towing will be there for you.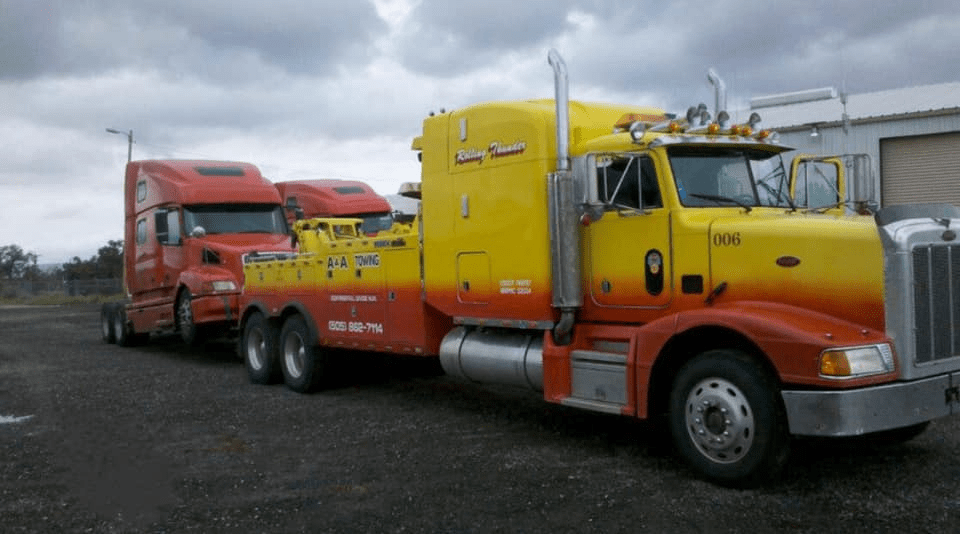 What Heavy Towing Service Can We Help With?
Vehicles that come in the heavy duty towing category include the following: 
Commercial, tour, charter, and city buses
Semi tractor-trailers

Pine-hook trailers

Bobtails, straight trucks

5th-wheel trailers 

Dump trucks, cement trucks, garbage trucks

Motor homes

Cranes and other heavy duty equipment
See Also: Commercial Towing vs. DIY: Why Professional Towing is Always the Better Option
Expert Big Truck Towing Services We Offer 24/7!
When finding the right heavy-duty towing service provider near Gallup, NM, you can always trust A & A Towing with fast and quality service. Whether you need assistance with a truck or something even more significant, our experienced professionals can help safely and quickly get your vehicle back on the road. Our commitment to excellent customer service and timely results have made us the go-to provider for all heavy towing services.
Heavy-Duty Vehicle Towing & Recovery
Our experts can easily tow any vehicle, even your largest one. We are available 24/7 and use only the best equipment for the safe transportation of vehicles up to 80,000 lbs. Our tow trucks feature state-of-the-art winching technology, allowing us to manage even the most challenging jobs efficiently and precisely. 
Heavy Duty Wrecker Rescue Services
We offer comprehensive heavy towing rescue solutions and towing services. From auto accidents involving large vehicles to rescue from water ditches or other areas, our highly trained big truck towing operators can manage the most complex cases professionally and quickly. No matter how challenging the situation, we ensure that each job is completed safely and correctly for maximum customer satisfaction.
See Also: From Heavy Duty to Light Duty: Understanding Different Types of Commercial Towing
Big Truck Towing Offroad Recovery
We understand that larger vehicles sometimes become stuck offroad for various reasons, such as bad weather conditions or narrow roads leading into paths unsuitable for regular vehicles. That's why we also offer specialized heavy towing offroad recovery services, which allow us to rescue heavy and oversized trucks without causing more damage than necessary while still providing a cost-effective solution for our customers.
The A & A Heavy Duty Towing Service Process
Navigating through a breakdown or an accident with a heavy-duty vehicle can be stressful. At A & A Towing, we aim to make this process as straightforward and hassle-free as possible with our streamlined heavy-duty wrecker service process:
Initial Contact and Dispatch
Once you contact us for your heavy towing needs in Gallup, NM, our dedicated customer service team will immediately dispatch a heavy-duty wrecker to your location. Equipped with a GPS system, our team can locate you quickly and accurately, ensuring prompt arrival to your site.
Assessment and Strategy Planning
On arrival, our heavy-duty Wreck Master-certified team will assess the situation thoroughly. Considering factors like vehicle size, weight, location, and condition, they'll devise the safest and most efficient heavy-duty towing strategy. Be it heavy towing for a construction vehicle stuck in mud or a big truck towing after an accident, we plan every move with utmost precision.
Execution of Heavy Towing
With the strategy in place, our team will employ our state-of-the-art heavy-duty wreckers to execute the towing. We use specialized equipment to ensure your vehicle is handled safely and securely, minimizing any potential damage.
Transportation and Delivery
Once your vehicle is securely attached to our heavy-duty wrecker, we'll transport it to the desired location. Whether it's a repair shop, your business, or a different location, we guarantee your vehicle's safe and timely delivery.
Post-Towing Support
Our service doesn't end when your vehicle is delivered. We're here to offer post-towing support and answer any questions or concerns. Your satisfaction is our top priority, and we go the extra mile to ensure it.
We pride ourselves on offering reliable heavy-duty towing services in Gallup, NM, and expert advice regarding vehicle transportation needs. We understand the importance of reliable transportation services for commercial operations and personal emergencies. We work 24/7 to ensure quick response times and premium-quality results. With decades of experience behind us and dedicated customer service agents available for assistance, you can trust us for cost-effective solutions tailored to your needs.
Safety Measures at A & A's Heavy Towing Duty Service
At A & A Towing, the safety of our customers, their vehicles, and our team is our top priority. Our strict safety protocols ensure that we can deliver the highest level of heavy-duty towing services near Gallup, NM, without compromising on safety. Here are some of the safety measures we employ:
Our team, including our heavy-duty wrecker operators, undergo regular, intensive training to stay up-to-date with the latest safety procedures and best practices. This includes learning how to operate our specialized heavy towing equipment safely and efficiently.
We use the latest, state-of-the-art heavy-duty wreckers and towing equipment designed to handle heavy loads safely. This machinery is regularly inspected and maintained to ensure it is always in optimal condition.
Before initiating any big truck towing operation, we meticulously plan and follow a specific set of safety procedures. These include a thorough site assessment, meticulous planning of the towing strategy, careful connection of the heavy vehicle to our heavy-duty wrecker, and safe navigation to the destination.
In the case of emergency big truck towing, we're prepared to handle any situation swiftly and safely. Our team is trained to respond to emergencies and has the skills to manage potentially hazardous situations.
Insurance and Certifications
A & A Towing is Wreck Master certified, licensed, insured, and bonded. Our professional certifications reflect our commitment to safety and quality. We meet all the industry requirements for providing safe and efficient heavy-duty towing services.
In our commitment to safety, we've not only earned the trust of our customers in in Gallup, NM, and surrounding areas but also won the "Student of the Class" award during our Wreck Master class and received the Gold Award from The National Towing Safety Administration.
Frequently Asked Questions About A&A's Big Truck Towing Service
How quickly can your heavy duty wrecker respond to an emergency?
Our heavy-duty towing services are available 24/7, 365 days a year. We are always ready to dispatch a team promptly once we receive your call. However, response times can vary based on the location and time of day.
How is the cost of your heavy towing services determined?
The cost of our heavy towing services is influenced by several factors including the type and size of the vehicle, the complexity of the job, the distance of the tow, and the time of day or night. We ensure transparency in our pricing and can provide a quote once we understand the specifics of your requirements.
Are there any particular preparations I need to do before the heavy duty wrecker arrives?
While our team is equipped to handle most situations, providing as much information as possible when you call, including the type and condition of your vehicle and any particular issues or concerns can be helpful. This allows us to come prepared and carry out the towing process as smoothly as possible.
How soon should I call before I need a big truck towing service?
For non-emergency services, it's advisable to call as soon as you know you need a tow. However, we understand that emergencies happen unexpectedly, so we offer 24/7 big truck towing services to meet those urgent needs.
Ready to Experience the Best in Heavy Duty Towing?
Don't let a breakdown or accident disrupt your day. With A & A Towing's heavy-duty towing service, you choose reliable, safe, and professional help. Our team is equipped with state-of-the-art heavy-duty wreckers and backed by over two decades of industry experience. We're here for you 24/7, ready to turn a difficult situation into a solution you can trust.
Remember, your heavy towing needs shouldn't be left to just anyone. Choose a service that prioritizes safety, professionalism, and customer satisfaction.
To discuss your heavy-duty towing needs, request a service, or simply ask us a question, don't hesitate to call us at (505) 862-7114. Your peace of mind on the road is just one call away with A & A Towing.
We look forward to serving you excellently in Gallup, NM, and the surrounding areas!