Heavy Towing Gallup NM & Surrounding Areas
Towing is not a one-size-fits-all job. What works for cars or vans may not work for vehicles such as garbage trucks, dump trucks, semi-trailers, tractor trucks, and the like. A special type of service that uses specialized equipment is required for towing such heavy-duty vehicles and is known as heavy towing. We cover Gallup NM and surrounding areas.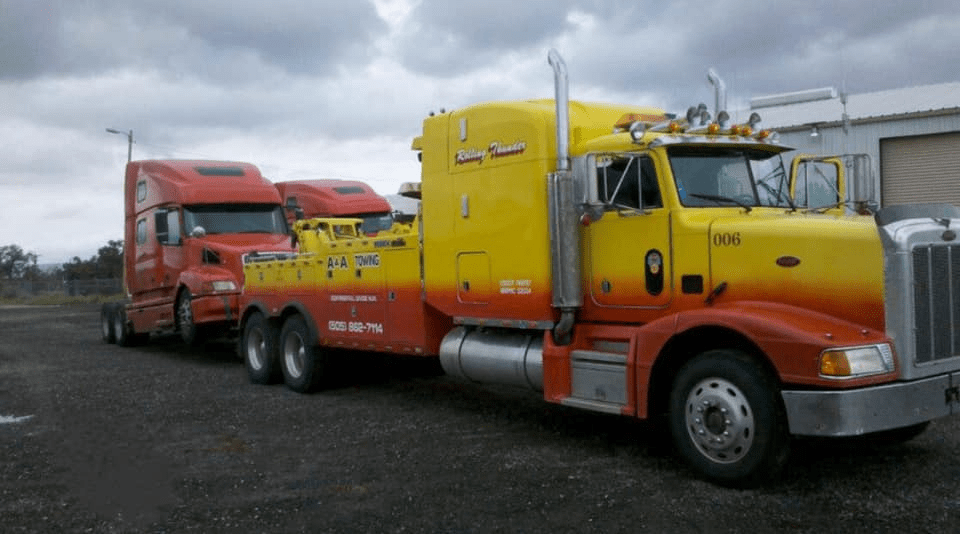 Heavy towing services are used to tow heavy equipment that cannot be towed by the usual transport methods. The tow trucks are specially designed to haul heavy equipment and require the supervision of highly-trained experts. 
The forces exerted when transporting heavy vehicles such as motor homes, ROVs, minibusses, and trucks while negotiating traffic is no simple matter.  If not handled properly and professionally, these vehicles can cause serious damage or themselves be damaged.
What Heavy Duty Towing Can We Help With?
Vehicles that come in the heavy-duty towing category include the following: 
Commercial, tour, charter, and city buses

Semi tractor-trailers

Pine-hook trailers

Bobtails, straight trucks

5th-wheel trailers 

Dump trucks, cement trucks, garbage trucks

Motor homes

Cranes and other heavy equipment
When you need heavy duty towing services, A & A Towing is your best choice. All you need to do is call to inform us of your whereabouts and we will be there.
Our full fleet of heavy-duty equipment is at your disposal. We are fully prepared to take on the heaviest vehicles, even in the most complex situations. With our state-of-the-art towing equipment and highly-experienced technicians, there is no vehicle too large or any situation too challenging.
We provide powerful yet safe towing. We begin our Heavy Duty Towing Service by raising the front end of your vehicle until only the rear tires are touching the ground. As soon as everything is secure and safe for transport, it can finally be towed to your desired destination.
We are fully licensed, and BBB accredited. We have earned a name for ourselves as local towing leaders who have been setting standards not only in professionalism but also in the quality of service, efficiency, and unmatched rates.
When you need Heavy Duty Towing Service or any roadside assistance, you can always rely on us. We operate 24 hours a day, 7 days a week, to give you the service you need in the most efficient manner.
Our quick response time to anywhere within our coverage area will show you our dedication to help you in times of need. We know that your time is valuable, so we do not waste it.
Our honest billing policy promises you highly competitive rates without any hidden costs. For the most affordable and safest choice in heavy duty towing service, A & A Towing is here for you.